9 Ways to Customize Your Motorcycle
You're standing at the dealership. You've just signed the papers on your shiny new, straight-from-the-factory motorcycle. You grab the handlebars, try out the seat, and know there's only one thing to do next…start changing things. There's nothing wrong with a stock bike, but with so many ways to make your motorcycle uniquely yours, most bikers don't wait long before making a few (or a ton of) modifications.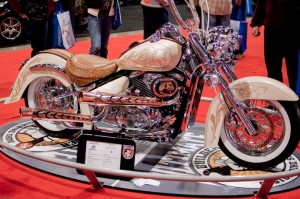 1. Chrome
This is the most common aftermarket accessory added to motorcycles, and with the obvious bling it adds, it's literally not hard to see why. Almost any part of the bike can be chromed from front wheel spokes to tail lights.
2. Exhaust
The most popular custom feature after chrome is the exhaust pipes. Nothing beats the sound of your own custom pipes as you ride through town. Harley-Davidson offers several custom exhaust systems, and when used in combination with intake, it can add torque and horsepower as well as great sound. Although you might not be on the best of terms with your neighbors if you ride your motorcycle to work at 5 a.m. Other popular name brands include Vance & Hines®, Rinehart, BUB, Thunderheader, Patriot, Kuryakyn®, Bassani®, Python, Road Burner, Samson®, Klock Werks,Santee, SuperTrap, Cycle Shack, Battistinis, Joker, Cobra®, Paughco, Dyno Power®, Krome Werks and Rush.
3. Seats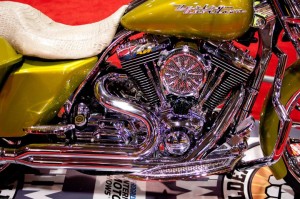 Coming in as the third most common aftermarket accessory, new seats go a long way toward increasing comfort and making those long rides a lot more enjoyable. You can buy an aftermarket seat or have the manufacturer build you a custom seat matched to your weight, height, inseam, and width. Custom seats can provide big changes in your ride. For example, if you are a little taller or shorter than most, you can adjust the height to give you the perfect amount of legroom.
Another popular option is to have your seat made from visco-elastic gel. These seats use a similar technology as memory foam pillows or mattresses, meaning they conform to the shape of your backside but return to normal once you get up from your 500 mile trek to Sturgis.
If totally replacing your seat is more than you're looking to do, consider installing a new seat cushion. They come in many varieties and are adjustable.
To make your passengers happier, you may also want to consider adding a backrest. A backrest allows your passenger to lean back and relax and can even stop them from sliding off if you suddenly get started too fast.
4. Wheels
The wider the better. At least that's what you'd think looking at the latest trends in aftermarket and custom wheel markets. Some of the widest rear wheels you can get in a stock bike are in the 200- to 240-series range, but aftermarket hoops get up to the 330-series range and may continue to get wider. Wide rear tires are certainly attention getting, but the wider tires add more weight and may negatively affect how the bike rides and takes turns. Eighteen inches is the most common wheel diameter, and there are three main types of wheels: cast wheels, which are formed by pouring metal into a mold; forged wheels, which come from a solid piece of metal that is heated and pressed under extreme pressure to create the correct shape; and wire wheels with the traditional spokes, which are still common on most choppers and classic bikes today. The forged wheels are typically the strongest.
5. Windshields
A windshield can keep you warm and more relaxed on long rides as well as keep the bugs out of your face. Windshields typically are mounted with a set of handlebar and fork-tube clamps. The important thing to remember about installing a new windshield is setting it to the proper height and angle. You should be able to see over the shield with your eyes several inches above the shield. This prevents an obstructed view in case of glare from oncoming headlights at night, dirt, water or other debris.
6. Lights
Just because the sun has gone down doesn't mean you're done with your ride. There are a variety of custom options to let you light up the night the way you see fit. Strip lights, which are low-wattage lights, can make the motorcycle more visible and be used as decoration. Pencil beam driving lamps are an option to improve nighttime driver visibility. They project a focused beam of light far into the distance. Wide beams, by contrast, send light out to a wide but shallower area to supplement the low beam. Replacing headlight lenses with clear lenses and faceted reflectors is another popular trend. A faceted reflector with a clear lens is better at directing and spreading light. This results in brighter, whiter, more focused light.
Beyond headlights you can also mount lights in engine cases, forks, mirror stems, crash bars, light bars, fairings, or more. Just be sure not to mount any lights higher than the headlight.
7. Sound System
With all the wind and road noise that buffet the typical motorcycle rider, achieving high-quality acoustics is a little too much to expect. But there are still plenty of options to drown out the voices in your head. AM/FM radios are the simplest option and will provide local news and music. Satellite radio is also available from your Harley dealer if you do a lot of long trips and get tired of losing your stations with AM/FM. CD players are generally a bad idea with the amount of vibration that can happen on a bike, but MP3 players are a nice fix for that problem. CB radios will allow riders and motorists within range to communicate and are great for getting information on local conditions. They are even offered standard on some Harleys. If you want to get optimal sound quality on your bike, helmet speakers and microphones are the way to go. They can also be used as part of an intercom system with other riders or as a Bluetooth headset. Be sure to check if helmet speakers are legal in your state.
8. Handlebars and Grips, Heated Grips
Heated grips are an essential feature to extend the riding season in northern states, and once you try them, you're not likely to want to do without. They're more than a luxury because they allow for better control of the throttle, front brake and clutch level. You will also be able to wear lighter gloves. Be sure to find grips with at least two temperature settings to better match the weather. Also try to avoid add-ons that install over the existing grips.
Custom handlebars can be a worthwhile addition because like adjusting seats and pegs, changing the handle bar height and distance forward fits the bike for your size and comfort.
9. Paint Job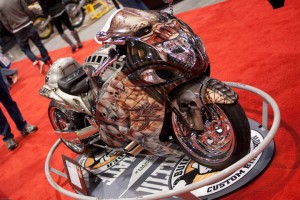 Not much needs to be said here. I've seen people paint their bikes with snakeskin designs, skulls, symbols and about any color you can imagine. I even saw a girl in Michigan paint her bike bright pink to match her velour jumpsuit. The point, as with any customizing is to make a bike that's truly yours.