"Easy Rider" Movie Review: Biker Freedom on the Open Road?
Can anyone really be free of the constraints of society? Iconic motorcycle riders Wyatt and Billy sure give it a try in the 1969 film "Easy Rider". Coming out of, or perhaps as backlash against, the bikesploitation films of the '60s, "Easy Rider" isn't a biker gang movie so much as it is a tribute to the outsider, to one who searches for a new path through life. We follow the journey of Wyatt (played by Peter Fonda) and Billy (played by Dennis Hopper) as they travel from California towards Florida where they plan to retire after a final, very lucrative cocaine deal. Let the hazy, hippie adventures ensue.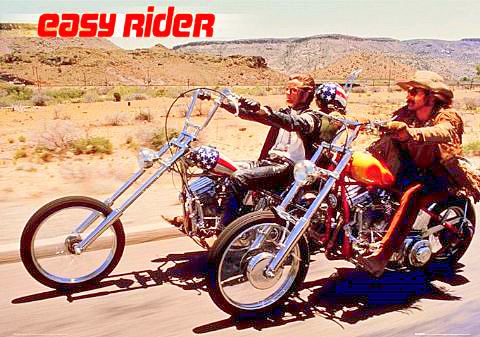 The film is a perennial fixture on lists of the top biker movies, but younger audiences are likely to be more confused than inspired by the main characters' beat generation sensibilities. I mean, are Wyatt and Billy really so okay watching a crowd of rednecks punch and kick their friend to death that they don't even seem upset the next day while dropping acid and having orgies? It's one thing to be laid back, but come on.
Let me rewind a little first. The movie opens outside of La Contenta Bar where the protagonists pick up and test out a new shipment of cocaine. They then deliver it to the distributor for a large wad of cash and hide the money in Wyatt's star-spangled gas tank. Whether you love or hate this movie, you've got to appreciate the scene where they take off across the desert as "Born to Be Wild" is playing, letting the audience taste the thrill of a cross-country motorcycle trip.
The wardrobe choices are also pretty awesome. Wyatt, a.k.a. Captain America, is covered in red, white and blue with a star-and-stripes patterned jacket, helmet and motorcycle to go with his leather pants. Billy looks like an escapee from a wild west show wearing a brown leather jacket with loose fringe hanging from his arms.
The duo don't talk much as they cruise through the sweeping vistas of the American Southwest. They make only brief stops to refuel, eat or toke it up around makeshift campsites. They stop by a farm when one of their tires blows and there's a fun juxtaposed scene where they fix the tire while someone shoes a horse in the background.
After picking up a mangy hitchhiker, they learn he's the charismatic leader of a hippie commune. Wyatt and Billy deliver him home and stop a while at the commune to watch the flower children, young women in barely-there cotton dresses and overly thin young men in serious need of a cheeseburger, scurry around with a dozen or more actual children underfoot. Is anyone else worried these love children aren't in school?
They all sit through some kind of trust circle and everyone seems thrilled to be living so unconventionally, but for all the optimism, there is trouble on the horizon. These hippies have the will to be self-sufficient, but we get a glimpse that hunger will soon challenge their freedom. We're presented with the doomed vision of hippies trying to plant seeds in rocky desert soil.
Wyatt and Billy decide the commune isn't their bag either and take off to crash someone else's parade, literally. They ride their motorcycles through the middle of a marching band and find themselves in a small-town jail cell, put there as much for having long hair as riding their bikes on a closed street. Once in jail they meet George Hanson, an alcoholic lawyer from a wealthy family. Played by a very young Jack Nicholson, George has been put in the cell to sober up, but quickly latches on to his unusual biker cellmates. They give him a vocabulary lesson on the meaning of the word "dude", and pretty soon they're making plans to ride to New Orleans together to see Mardi Gras.
George wearing a football helmet because he didn't have a bike helmet, uses his subtle southern accent to give voice to the problems Wyatt and Billy have an will continue to face. When they arrive at a bar in Louisiana, the local good ole' boys stare the three down with outright contempt and seem ready to start a fight at the slightest provocation. This scene was especially hard for me to believe. I mean really? All these guys did was wear funny outfits and ride into town on motorcycles. It just doesn't seem all that odd to someone who rode the subways in New York City for a year.
The three skedaddle quickly and are followed out by a gaggle of admiring teenage girls wanting rides. Wyatt, Billy and George apparently aren't interested in the jailbait, however, and ride up the road to set up camp and get George high. While under the influence, George goes on a wild rant about aliens living among us, but in a moment of possible clarity, we get a statement of what all this anger from the townsfolk is really about.
"What you represent to them is freedom – if they see a free individual, it makes them scared."
And it turns out to be more true than any of them could have imagined, as this is the night where George meets his demise after the guys from town ride in and brutally beat him to death. This seems rather traumatic, but does this make Wyatt and Billy decide to cut their hair and don white collared shirts? Oh no, instead they keep traveling and arrive at a brothel in New Orleans.
The two bikers plus their two hired girls stubble around Mardi Gras on acid and witness a series of probably artistically significant images. The scene in the graveyard when the trip starts to go bad is probably especially significant and arty.
Finally, Wyatt and Billy come out of their stupor and continue on toward Florida. They should be celebrating at this point, but Wyatt is clearly not happy. They still have the cash, and they've almost reached their sunny retirement destination, but Wyatt's only comment is "We blew it." References to snorting coke notwithstanding, I can only guess that he feels like a sellout. There are a lot of interpretations out there on what exactly he means, but if he considers himself a sellout for participating in the system by cashing in on the drug money, then they were never really free from the beginning.
I won't give away the ending in case you are one of the few who doesn't know what happens to our intrepid travelers. But I will say that it was a total shock for me and really a pretty harsh depiction of rednecks.
Overall, "Easy Rider" is hard to watch if you need things like snappy dialogue, plot and character development, but if you can be happy with a killer '60s soundtrack, the open road and a red, white and blue biker helmet, give it a shot (pun intended).