Can't Wait for the Spring Riding Season? - Warm Things Up with Heated Motorcycle Gear
It's cold out, but so what? If there's no snow or ice on the ground then riding in temperatures in the 40s can be its own kind of thrill. Just be sure you have the right gear for the job. The first step you'll want to take is making sure your motorcycle is equipped with heated handgrips. When your hands are sticking out in front of you taking the full force of the wind, they will feel like they are experiencing temperatures as much as 20 degrees colder than what it reads on the thermometer. Besides being unpleasant, this can also be dangerous if it causes your hands to lose dexterity and control of the throttle. Heating elements work best when they are built into the grips themselves. Along the same line, heated seats can be a good way to make sliding onto a chilly bike a bit more bearable. Look for seats that are designed for your bike's make and model for the most comfortable fit.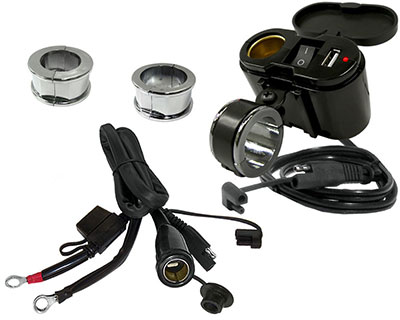 Now that your bike is warmed up, its time to warm up yourself. Heated vests and heated jacket liners are popular gear choices for riders wishing to extend the riding season. They work similarly to electric blankets. For power these electric vests and jackets hook into your bike's battery with a wiring harness and produce heat by passing current through wires in the garment. You'll want to wear these items over clothing and be sure to seal off wind. It's also important to remember to look for synthetic clothing when choosing a base layer. You may think you won't be sweating when it's 40 degrees out, but with all your heated clothing pumping out the warmth, you don't want to have a wet base layer when you do cool down. Heated gear is only effective if the heat can stay near your body, so a dry base layer is essential. Before getting completely suited up in heated gear, however, be sure to check that your bike's battery can handle the added electricity needs.
A balaclava that covers your entire face except for the eyes can be worn under your helmet for extra wind protection. Neoprene masks are another great option. They come in a wide variety of colors, designs and sizes and will keep your face and neck warm and dry. Overpants are a good way to keep your legs warm and some versions will also keep the rain and sleet. Electric heated pants that work the same way as the vests and jackets are also an option.
For more options for bikers in the winter check out "Bikers, Winter Doesn't Have to Suck: What to Do When It's Too Cold to Ride Your Motorcycle".