Choosing a Motorcycle Jacket: Why Motorcycle Leather is Different from Fashion Leather
Leather jackets are instantly associated with motorcycle riding, and it's not hard to figure out why. Not only do they keep your skin from scraping against the pavement when you have an accident, but they also have the ability to make almost anyone instantly cooler. Check out this kid, if you don't believe me.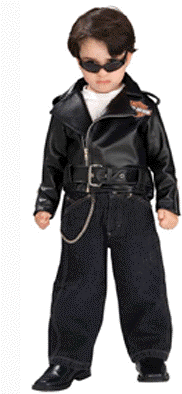 But not all leather jackets are created equal. A true motorcycle jacket is a purpose-built piece of equipment, so for those new to riding or for those who what to see if their current jacket is tough enough for the job, read on for an overview of optimum jacket design. (Important note: they don't necessarily have to be made of leather.)
Don't Wear This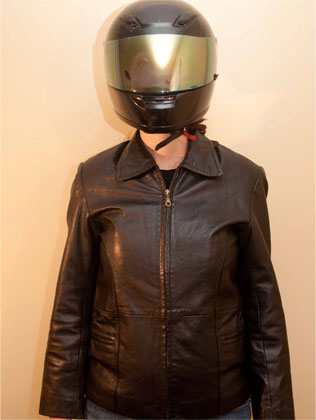 It may be tempting to grab any leather jacket from your closet, but a fashion leather jacket simply wasn't built for the road. The leather on a regular jacket is thinner and won't hold up properly against abrasion in an accident. It is also likely to be open at the neck, sleeves and waist, allowing wind to rush in and make for a chilly ride, not to mention the puffed up appearance you're likely to have.
Keeping Out the Wind
A true motorcycle jacket is built with the rushing wind of riding in mind. The main zipper has a flap that can be buttoned down to stop wind from blowing in or snaps near the collar. The sleeves should also have adjusters to cinch tight around the wrist. Many jackets also have adjusters around the waist in the form of laces, elastic, snaps or Velcro. This provides a snug fit against the wind and also allows for adding and taking away under layers depending on the weather.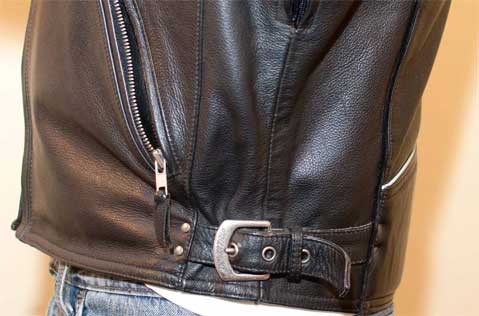 The Right Cut
One of the qualities that makes a motorcycle jacket easy to recognize is the unique cut. The sleeves are lengthened and rotated forward to form to the riding position. The material behind the rider's shoulders is wider to accommodate better movement despite the thick leather. This is referred to as the action back. (It's also a great place to put patches for a motorcycle club.)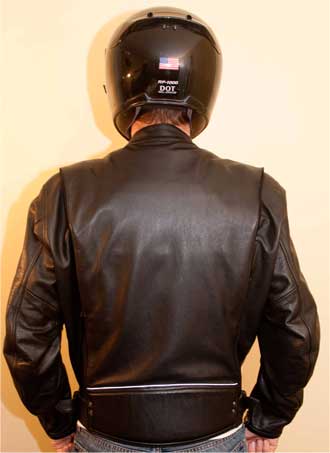 The back is also often cut lower that the front to keep it from slipping up in an accident and provide protection to the rider's kidneys.
Pockets
Because when you are riding you'll probably want to carry all your most important items on you, a good jacket will have no shortage of pockets. Everything from keys, earplugs, and loose change to a tire gauge or extra gloves may need somewhere to call home. Most pockets zip shut to keep things from flying off and ideally will be covered by storm flaps to keep the rain from coming in through the zipper. You will want to look for an inner pocket for storing your wallet and cell phone.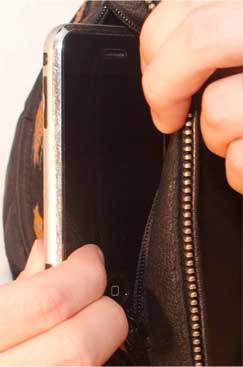 Temperature and Weather Changes
An advantage of leather is that it is naturally porous which allows it to breathe in addition to being abrasion resistant. However, it is not great at providing warmth, so most jackets come with a liner for insulation in cooler temperatures. When temperatures rise, controllable vents that open to let in air make a jacket more comfortable. The vents should have mesh backing to keep out bugs. Slits are often located by the chest, forearms or back, but you may have to take them off to reach some of them. Despite leather's versatility, it is not great in the rain. Unless it has been treated, leather can turn stiff and discolored. And on the hottest days, a black leather jacket is often the last thing you want to wear. In these cases, textile jackets made of synthetic materials such as nylon, can be the answer.
Textile Jackets
Jackets made of nylon are petroleum based and therefore resistant to moisture. Water can still come in thorough the weave of fibers, so a waterproof yet breathable liner made of a material like Gore-Tex can provide the added protection needed. For hot days textile jackets can often be lighter and more comfortable for summer riding because the weave thickness comes in different varieties.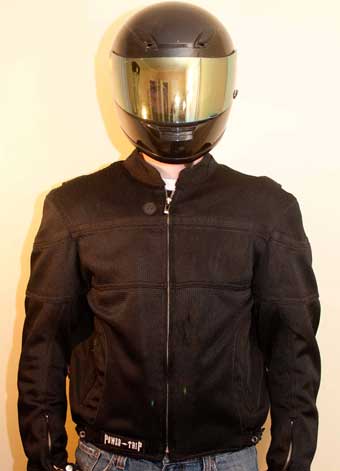 Nylon jackets have many great advantages, but don't forget that they are made from petroleum and can melt if exposed to extreme heat, such as from your engine or exhaust pipe. Even the heat of friction during a fall may cause melting.
Whatever motorcycle jacket you choose, it's important to remember that any jacket is better than no jacket in an accident, but a well-built, abrasion-resistant jacket is going to save a lot more of your skin.