Motorcycle Ride Review: Surviving All 318 Turns of the Tail of the Dragon on a Motorcycle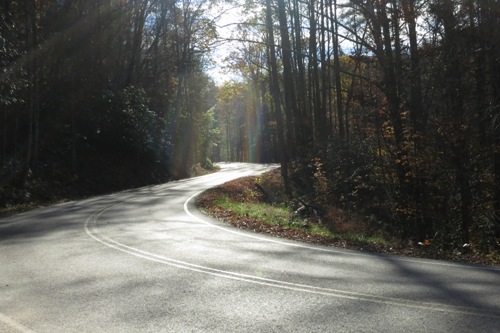 Tucked into the rolling hills near Great Smoky Mountains National Park sits an 11-mile stretch of road known to many as the Tail of the Dragon. It's legendary for its ability to test motorsport enthusiasts' skill, whether they ride motorcycles or drive sports cars, thanks to 318 tight, winding turns in rapid succession. There was even a novel written in 2012 about this thing.
The point is, it's not a challenge to take lightly. Many riders and drivers have met misfortune on this road either because of mistakes or just plain bad luck, and the road isn't a track. If you wipe out it can take an ambulance 20 minutes just to get to you, and there's no cell phone reception to call them anyway. And that's assuming you don't slide off the hill into the brush where they can't find you at all.
Challenge Accepted
So, Tail of the Dragon is famous, it's dangerous, and bestows bragging rights on those who make it through. Obviously it had been on my bucket list for a while. So when the opportunity to ride Tail of the Dragon presented itself last fall, I was in.
The cool early November day was warmed by a bright sun that quickly burned off the area's signature smoky fog. At 10 a.m. I arrived in Maryville, Tennessee, to pick up a black and chrome Harley Davidson Heritage Softail Classic from Smoky Mountain Harley-Davidson and was on the road by 11 a.m. They like their Harley's in Tennessee, and the expansive store was a clear sign. It had a rustic country theme with a restaurant in back and a concert venue in the parking lot!
But what I really remember is the bike. With this Harley, you just hop on, flip the switch and start it up. It had a passive start feature that allowed me keep the key in my pocket and just press a button, and once I pressed it, I got that great engine revving rumble. I was unfortunately unable to get my own bike to the trail at the time, but as rentals go, this was a winner. In case you haven't picked it up yet, I love Harley Davidson. It's a true iconic American brand, and bonus, if something happens to your bike for whatever reason (breaks down, crashes, wipes out, gets hit by a deer. . .) there's almost always a dealership nearby. But I'm getting off topic.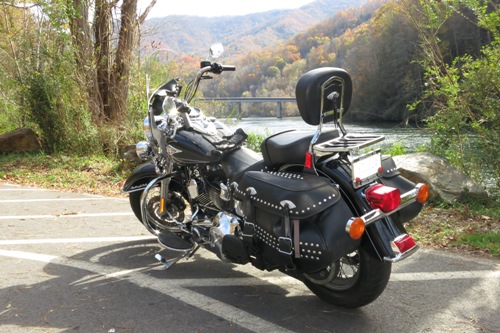 Now, Tail of the Dragon is in the middle of nowhere, so traffic is light. But this is a real section of Highway 129 through Deal's Gap, North Carolina, and it's not uncommon for the uninitiated truck driver to mistakenly attempt what they think is a shortcut with their rigs. This adds to the excitement, and you should watch out just in case.
The road borders Great Smoky Mountains National Park, so you get pristine views of thick forest all around. Also because there is no development along the road, there's no risk of someone pulling out of a driveway.
The road was repaved as part of the American Recovery and Reinvestment Act, but looking down you'll see the fresh pavement already scrapped and scarred from the wrecks of the unlucky. The scars in the blacktop should remind you to be careful and not to ride outside your limits. I probably scrapped my footboards on each and every one of the 318 turns.
It was a little intimidating at first once I started the ride because a lot of people take the road really fast. I was getting passed by people who knew what they were doing; it was probably the tenth time that day they'd driven Tail of the Dragon. On your first time, you want to be cautious to get a feel for things. I read all the warnings about taking the corner too fast, drifting into the other lane and being hit by a tractor trailer. But at the same time there's a strong desire to keep up. You don't want to be a pace car for the guy behind you, slowing him down and spoiling his fun, but you also don't want to drive off the side of the mountain.
Another thing that stands out from the ride is how scenic it is. At the Tail of the Dragon Overlook at the top of the mountain, everybody stops to enjoy the view. The scenery is beautiful. When you're riding, you're trying to take it all in, but it's very technical at the same time.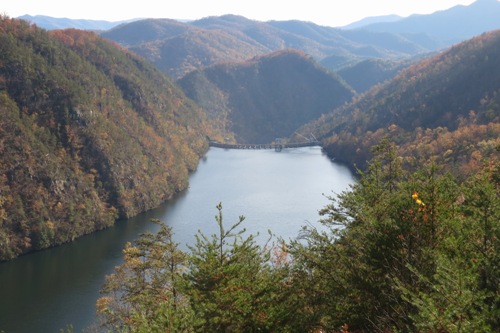 Getting There:
From the North: It's 27.6 miles to Tabcat Creek bridge (the north end of the Dragon), so if you're on a cruiser, just ride there from wherever you're staying. If you're trailering down from the North there are many places along the lake to park. My favorite is across from the Harley Davidson seasonal outpost at US 129 and Tallahasse Rd. There's a large parking lot for trailers accessing the lake right across the street. That's where I'd stop. It's before the Chilhowee Dam, but there are still many places to pull off before you start the run if you miss it. Calderwood highway runs along a peaceful tree-lined lake.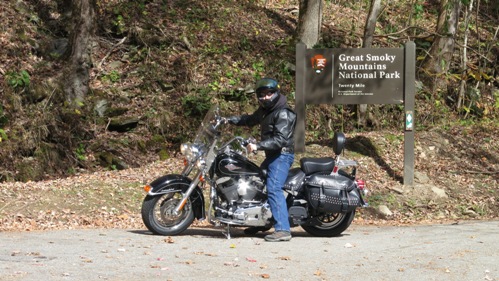 When to go:
Any time when there isn't snow on the ground can be a good time to visit Tail of the Dragon. I found a weekday in early November to be a great time. It was quiet, peaceful, in the 60s and sunny. There's still fall color on the trees, but it's easier to see through the turns. There aren't wet leaves on the ground to slip on. However, going in fall is a roll of the dice because when I was there for example there was a frost advisory that night. Like most places in the middle of the U.S. if you don't like the weather, just wait a day. Spring, summer, and fall are all good times to go.
After crossing the Tennessee border and arriving at Deals Gap, North Carolina, you can stop, fill up gas and buy a t-shirt. There's actually a motorcycle resort if you want to spend the night and run the Dragon again the next day. There's a restaurant there and two different t-shirt places.
From Deals Gap you can either head east or south. If you head east on US 28, you go towards the Fontana Dam along the southern edge of the Great Smoky Mountains National Park and along the lakes which are just as scenic and picturesque as on the north side. You can keep heading east all the way to Cherokee and back into the park or to the Blue Ridge Parkway. I went east on US 28, headed south on US 143 to Robinsville, NC, and then went back north to make a big loop.
In six hours I rode 160 miles stopping frequently for photos along the way. It was a great day and I can't wait to go back.
The speed limit used to be 55, but if you tried to take a corner at that speed, you wouldn't survive the first turn. They say it's been more heavily patrolled recently, but the day I was there I didn't see one police officer. You still need to watch out for traffic. I got stuck behind a Budget rental van pulling a Dodge Caliber for a mile before it pulled off to let four bikes and a Focus pass. There's just no way for longer vehicles to stay in their lane on the switchbacks, so be careful around blind corners. For me it was annoying more than anything, but thankfully there are many pull offs along the 11 miles of switchbacks. Glad I didn't get surprised in a corner coming the other way.
There is a lot of great info at tailofthedragon.com.
You can also get gear to improve your trip on our shop pages.